Bachelor of science in computer science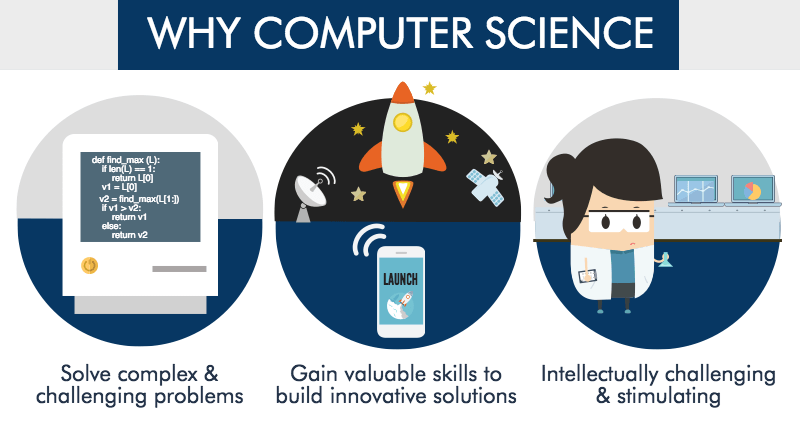 Bachelor of science in computer science
Why study computer science?
1. We are in a digital age
The growth of computer power has brought miraculous breakthroughs in hardware and software, which have in turn changed global behavior and culture. Computer science is responsible for smartphones, tablets, the internet and networked communications, even social media. We live in a society that consumes content – whether that be news, information, entertainment, or communication – through screens. We are truly living in a digital age, driven by computer science.
2. Make the world a better place
As a result of the digital age, businesses are increasingly relying on software programs to deliver, acquire, and transmit data across a multitude of platforms. This trend impacts all industries, from healthcare and banking to transportation and accounting. Even household objects that have been around for decades such as refrigerators, door locks, and microwave ovens, are now becoming smart, connecting to personal assistants and Wi-Fi networks. Computer science has helped improve living conditions and avert disasters, for example by predicting earthquakes or tsunamis. With your computer science degree, you can help to make the world, faster, better, and far more connected.
3. High earnings
The world of IT will continue to grow and provide more jobs in all sectors. Computer science is a challenging subject, which makes a degree highly respected around the world. Computer science experts are sought after in all industries and sectors, and graduates can enter the world of work on a good salary with many opportunities for career progression and higher earnings. For example, according to a Payscale report, the average salary for a Software Development Director
is 143,000 USD, and a Security Consultant earns 85,600 USD on average, per year.
4. Variety of specializations
As computer science is used in so many areas of life and business, there are plenty of choices available to qualified professionals. When you graduate with your computer science degree, and even while on your degree program, you'll be faced with a variety of specializations and roles, such as:
Software developer

Computer systems analyst

IT manager

Computer network architect

Mobile application designer or developer

Research and development (R&D) scientist

Computer scientist

Computer science researcher

Artificial intelligence and machine learning engineer
5. Global opportunities
One of the key benefits of studying computer science is the global opportunities that your degree can offer. Computer science graduates are in high demand all over the world. Whether you plan to launch your career in your home country and then travel, or look for international roles straight after graduation, you will find plenty of job opportunities. Additionally, many computer science roles can be carried out remotely, meaning that you could work with colleagues and companies all around the world while still living in the country of your choice.
6. Transferrable skills
A computer science degree will equip you with a wide variety of skills, many of which are transferable to other lines of work and study. Studying computer science will help you to develop problem-solving, critical thinking and complex analytical skills. Skills such as these are especially useful for specialists working with complex algorithms and big data to create instructions and understand design patterns. However, they are interchangeable and transferable to many professions, both inside and outside of IT.
7. Ongoing technological developments
While the world continues to advance its IT infrastructure across all major economic industries, new languages, frameworks, and development environments are being produced at unforeseen speeds. For instance, Big Data is a disruptor for many, as large organizations consume massive pools of arranged information to better serve customers and understand consumer behavior. Other examples include automated payment systems to improve and streamline financial transactions, and fitness centers assisting with tracking health and heart rates. Virtual reality technology alone is now far more than an entertainment device; from real estate firms now using head-mounted displays to allow potential homeowners to walk through a living space before purchasing, to fashion retailers providing digital avatars and environments to try on clothes. This ongoing development brings with it massive scope for progression and learning opportunities. A computer science degree will teach you about how far things have come and also the direction that the world is now heading in.
8. Use your creativity
Unlike mathematics, in which there is only one answer to a problem, computer science allows infinite solutions to the same problem; the goal is to find and take advantage of the most efficient solution. Computer applications can be written and developed in many ways to suit any kind of purpose or user experience. Therefore, it provides a great window of creative opportunity for a professional. Once you have gained the knowledge and skills from your computer science degree, you can use your creative mind as well as your scientific mind in your day-to-day work.
Program Info
Study Level
undergraduate
Program Duration
4
modality
regular
Total tuition
0.0
Monthly tuition
0.0
Credit Hour
148.0